Alumni UK: A global network for international students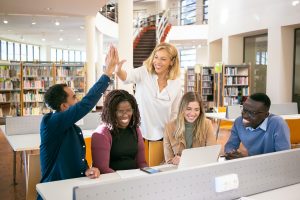 Are you one of the many international students who have had the incredible opportunity to study in the United Kingdom? If so, you're part of a vibrant and diverse community of individuals who have experienced world-class education in one of the most prestigious destinations for learning. Now, with the launch of Alumni UK in 2022 by the British Council, you have the chance to stay connected, grow professionally, and continue your journey of success.
What is Alumni UK?
Alumni UK is a global network that unites individuals from around the world who have studied in or with the UK as overseas students. Whether you pursued a degree or participated in online education, Αlumni UK welcomes you with open arms. This network aims to foster connections, facilitate lifelong learning, and provide a platform for you to share your experiences and expertise with others. Additionally, it's a place where you can stay updated on UK culture and the English language.
Why Should You Register?
There are numerous reasons why joining Alumni UK is a fantastic idea:
Expand Your

Professional Network

: By becoming a part of Αlumni UK, you gain access to a vast global network of like-minded individuals. Networking is a powerful tool in today's professional world, and this platform can help you connect with alumni from various UK universities.
Continuous Learning: The world is constantly evolving, and so is your field of expertise. Αlumni UK offers resources and opportunities for ongoing education to help you stay ahead in your career.
Discover New Opportunities: Whether you're looking for job opportunities, partnerships, or collaborations, Αlumni UK can be your gateway to exciting prospects. You might just find your next big break through this network.
Showcase Your Skills: Αlumni UK provides a global stage for you to display your skills and expertise. Share your knowledge, contribute to discussions, and make your mark in your chosen field.
Cultural Connection: Stay in touch with UK culture and keep your English language skills sharp through Alumni UK's offerings and updates.
International Prestige: Did you know that 38% of Nobel laureates who studied abroad chose the UK for their education? Join Alumni UK to be part of a community that includes some of the world's most accomplished and employable graduates.
How to Join Alumni UK?
Joining Alumni UK is a straightforward process, and here's how you can become a part of this prestigious network:
Eligibility: All international alumni who have studied at a UK higher education institution, regardless of the course or year, are encouraged to join. This includes those who have experienced transnational or online education.
Registration: To get started, simply register for Αlumni UK. You can do this on their website, and it's a quick and easy process.
Stay Informed: Once you're registered, you'll gain access to a wealth of resources, events, and opportunities. Be sure to stay engaged with the community to make the most of your membership.
Attend Events: Alumni UK hosts online engagement activities and events accessible from anywhere in the world. Additionally, they plan to organize in-person events in several countries, offering a chance to connect face-to-face with fellow alumni.
In conclusion, Αlumni UK is more than just a network; it's a gateway to a world of opportunities and connections. If you've ever studied in the UK, joining this community can be a transformative step in your journey towards personal and professional growth. So, don't miss out – become a part of Alumni UK today and embark on a path to global success.