Bristol Balloon Festival 2023: An Unforgettable Skyward Experience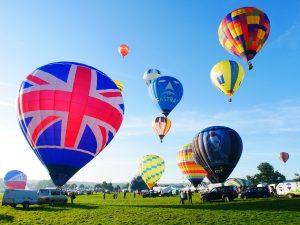 Get ready for a remarkable encounter that will elevate your spirit to new heights. The Bristol Balloon Festival 2023 is your destination, scheduled from August 10th to 13th. This captivating event guarantees an enchanting skyward journey, showcasing a vibrant array of colours and shapes that will leave you breathless.
A Journey Through History
Travel back in time and delve into the rich history of the Bristol Balloon Festival. Originating in 1979, this iconic event has transformed into one of the most eagerly awaited assemblies in the United Kingdom. Initially, only a few balloons adorned the Bristol skies. However, over time, the festival's size has multiplied, attracting balloon enthusiasts and spectators from across the globe.
A Sky-High Spectacle
Picture the excitement of observing a stunning collection of hot air balloons rising gracefully into the sky. Set against the backdrop of Bristol's picturesque landscapes, including the historic Clifton Suspension Bridge, the balloons create a visually striking spectacle that's nothing short of magical. As the balloons ascend, you'll be treated to an unforgettable showcase of creativity and artistry, with each balloon a unique masterpiece.
Moments to Cherish
The Bristol Balloon Festival goes beyond a visual spectacle. It offers a chance to interact with fellow balloon enthusiasts, exchange tales, and gain insights from industry experts. The festival is filled with awe-inspiring moments, from captivating morning launches to mesmerising night glows where balloons light up the night sky in a stunning display of luminosity. Each moment at the festival is an opportunity to create unforgettable memories.
Embrace the Adventure
For international students craving a genuine British experience, the Bristol Balloon Festival provides a unique opportunity to dive into the local culture and customs. Bristol, celebrated for its dynamic arts scene and historical allure, offers an ideal setting for this remarkable event.
Practical Tips
Transportation: The festival is conveniently reachable from Bristol's centre via public transportation or a pleasant walk.
Arrive Early: Make the most of your visit by arriving early to witness the awe-inspiring morning balloon take-offs.
Stay Hydrated: Remember to keep yourself hydrated and pack some snacks to maintain your energy throughout the day.
Capture the Moment: Don't forget your camera or smartphone to seize the dramatic scenes and share your memories with your loved ones.
For international students seeking an unforgettable adventure that blends spectacular views with a genuine cultural immersion, you won't want to miss the Bristol Balloon Festival 2023. The sight of magnificent balloons soaring against Bristol's scenic backdrop promises a memory to treasure and a sense of awe that lingers long after the festival ends. So, save the date and gear up for a magical skyward journey!