Scot-Free Summer: 10 Must-Visit Spots for Students in Scotland
Scotland, with its rich history, stunning landscapes, and vibrant cities, is a dream destination for international students studying in this captivating country. While traveling can sometimes strain a student's budget, Scotland offers numerous free attractions that allow visitors to immerse themselves in its beauty without breaking the bank. Whether you are interested in history, nature, or culture, here are the top ten places international students can visit for free in Scotland during the summer holidays.
Edinburgh's Royal Mile
Begin your Scottish adventure in the heart of the country's capital, Edinburgh. Explore the iconic Royal Mile, a historic street that stretches from Edinburgh Castle to the Palace of Holyroodhouse. Admire the stunning architecture, browse through unique shops, and witness street performances that bring the city's vibrant history to life.
Kelvingrove Art Gallery and Museum, Glasgow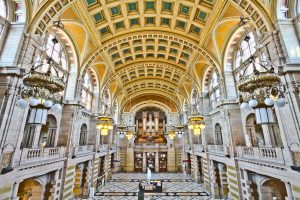 Glasgow is known for its thriving arts scene, and the Kelvingrove Art Gallery and Museum is a must-visit for art enthusiasts. Home to an extensive collection of artworks, including Salvador Dali's iconic "Christ of St John of the Cross," the museum offers a fascinating glimpse into Scotland's cultural heritage.
National Museum of Scotland, Edinburgh
Discover the captivating history of Scotland at the National Museum of Scotland. Explore exhibits showcasing Scottish inventions, archaeological treasures, and natural history specimens. The museum also offers panoramic views of the city from its rooftop terrace.
Loch Lomond and The Trossachs National Park
Escape the hustle and bustle of city life and venture into the tranquility of Loch Lomond and The Trossachs National Park. Take a leisurely hike, enjoy a picnic by the Loch's shores, or simply immerse yourself in the breathtaking scenery of mountains, forests, and sparkling waters.
The Isle of Skye
For those with a sense of adventure, the Isle of Skye promises a captivating experience. Marvel at the otherworldly landscapes, including the iconic Fairy Pools and the majestic Old Man of Storr. The island's rugged beauty offers countless opportunities for exploration and stunning photo opportunities.
Arthur's Seat, Edinburgh
Embark on a hike up Arthur's Seat, an ancient volcanic hill in Holyrood Park, offering panoramic views of Edinburgh. This free outdoor excursion is a popular choice among locals and tourists alike, especially during the summer months when the scenery is at its most vibrant.
The Kelpies, Falkirk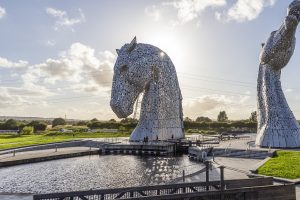 Visit the striking horse-head sculptures known as The Kelpies, located in Falkirk. These magnificent artworks pay homage to Scotland's industrial past and are a testament to the country's rich cultural heritage. Take a stroll along the canal and admire these impressive 30-meter-tall structures.
The Riverside Museum, Glasgow
Delve into Glasgow's transport history at The Riverside Museum. This award-winning museum showcases vintage cars, trams, and even a reconstructed Glasgow street from the early 20th century. Engaging exhibits and interactive displays make it an excellent place to spend an afternoon.
Stirling Castle
Step back in time and explore Stirling Castle, a historic fortress that played a significant role in Scotland's past. Wander through its grand halls, admire the panoramic views from the battlements, and learn about the country's fascinating history through interactive displays.
Calton Hill, Edinburgh
Round off your Scottish adventure by climbing Calton Hill, offering stunning views of Edinburgh's skyline. Marvel at the iconic National Monument and take in the beauty of the city, particularly during sunrise or sunset, when the skyline is bathed in a golden hue.
Scotland's natural beauty, rich history, and cultural treasures are accessible to international students even on a tight budget. From the bustling streets of Edinburgh to the tranquility of the Highlands, Scotland offers a myriad of free attractions that will leave international students with unforgettable memories. By exploring these top ten free places, students can experience the best of what Scotland has to offer while enjoying a budget-friendly summer adventure. So, pack your bags, grab your camera, and get ready to embark on an incredible journey through this enchanting country.