One Under – Student Offer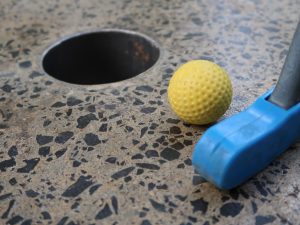 One Under is excited to announce its exclusive student offer, combining the thrill of mini golf and the excitement of car racing in one amazing experience. Designed to provide students with unforgettable moments of fun and competition, this offer allows them to enjoy both activities at a discounted price, making it the perfect way to unwind and bond with friends.
Located in the heart of Glasgow city, One Under offers a unique entertainment experience that combines a challenging mini golf course with exhilarating car racing simulators. Students can test their putting skills on the creatively designed mini golf course, navigating through obstacles and tricky holes. From winding fairways to exciting water features, the course offers plenty of challenges for players of all skill levels.
After a round of mini golf, students can head over to the RC car racing, where they can experience the thrill of high-speed racing. With state-of-the-art technology and realistic graphics, they provide an immersive racing experience that will leave students feeling like professional drivers. Whether they choose to race against their friends or beat their own lap times, the adrenaline rush is guaranteed.
To take advantage of the student offer, students simply need to present a valid student ID at the reception. They will then receive a special discounted rate for both the mini golf and car racing activities. This offer is a fantastic opportunity for students to enjoy a fun-filled day out without breaking the bank.
Don't miss out on this incredible student offer from One Under. Gather your friends, unleash your competitive spirit, and create memories that will last a lifetime. Book your slot today and get ready for an action-packed day of mini golf and car racing excitement.