Top 10 Essential Items for International Students Arriving in the UK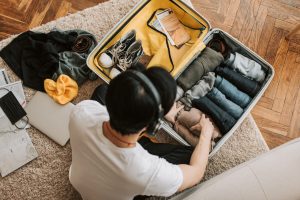 Moving to a new country as an international student can be both exciting and overwhelming. The United Kingdom, with its rich history, esteemed educational institutions, and diverse cultural experiences, attracts students from all corners of the world. To ensure a smooth transition, it is essential for international students to pack wisely before embarking on their UK journey. In this article, we present a curated list of the top 10 items that every international student should bring when arriving in the UK for the first time, along with reasons why each item is important.
Valid Travel Documents – Bringing your passport, visa, and other relevant travel documents is crucial. These documents will be required for immigration clearance, enrollment at your educational institution, opening a bank account, and accessing various services during your stay in the UK.
Adequate Warm Clothing – The UK is known for its changeable weather, even during the summer months. Be prepared for cooler temperatures by packing warm clothing such as sweaters, jackets, and scarves. Rain-resistant outerwear and sturdy footwear are also necessary to navigate the unpredictable

British weather

.
Power Adapters – Ensure you have the appropriate power adapters for your electronic devices. The UK uses a different power socket and voltage compared to many other countries. Adapters will allow you to charge your phones, laptops, and other essential devices without any hassle.
Medications and Prescriptions – If you have any pre-existing medical conditions, it is essential to bring an adequate supply of prescribed medications. You should also carry copies of your prescriptions, as this will help facilitate medical consultations and the procurement of additional medication if needed.
Universal Student Identity Card (ISIC) – The

International Student Identity Card (ISIC)

offers numerous benefits, including discounts on travel, entertainment, and shopping. It serves as an internationally recognized proof of student status, allowing you to avail yourself of various student discounts within the UK and abroad.
UK Currency and Banking Essentials – Bring some UK currency in cash for immediate expenses upon arrival. Additionally, open a local bank account as soon as possible to manage your finances efficiently. Remember to carry relevant documents, including proof of address and student identification, to expedite the account opening process.
Bedding and Towels – Consider bringing a set of bedding, including sheets, pillowcases, and a duvet or blanket. This will provide familiarity and comfort as you settle into your new accommodation. It is also advisable to pack a few towels, including bath towels and hand towels, for personal use.
Stationery and Study Materials – Prepare yourself for academic success by bringing essential stationery items like notebooks, pens, pencils, highlighters, and a calculator. Depending on your field of study, specific study materials such as scientific calculators, drawing tools, or textbooks may also be necessary.
Travel-Sized Toiletries – While you can easily find toiletries in the UK, it is convenient to bring travel-sized versions of your preferred products for the initial period. This includes items such as toothpaste, shampoo, soap, and any other personal care products you commonly use.
Photos and Mementos from Home – Bringing some small photos or mementos from home can provide a sense of familiarity and comfort in your new surroundings. They can serve as reminders of loved ones and cherished memories, helping you combat

homesickness

.
Packing the right items before traveling to the UK as an international student can significantly enhance your overall experience and ease the transition process. By ensuring you have essential travel documents, appropriate clothing, power adapters, medications, and other items mentioned above, you'll be well-equipped to settle into your new life and embark on an exciting educational journey in the United Kingdom.