Exploring London's Rich Architectural Heritage: London Open House Festival 2023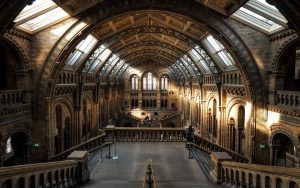 London, the bustling metropolis renowned for its history, culture, and architectural marvels, is a city that beckons visitors from all corners of the globe. For those international students fortunate enough to call this iconic city their temporary home, there's no better way to immerse yourself in its rich heritage than by attending the London Open House Festival 2023. Running from the 6th to the 17th of September 2023, this event promises an unforgettable exploration of London's hidden gems and architectural wonders.
What is London Open House Festival?
The London Open House Festival is a much-anticipated annual event that opens the doors to some of the city's most prestigious, historic, and contemporary buildings. Organized by Open City, a charity dedicated to making London more accessible, this festival provides a unique opportunity for residents and visitors alike to gain insight into the city's diverse architectural landscape.
What to Expect?
During this 12-day extravaganza, you'll have the chance to visit over 800 locations across London, many of which are typically off-limits to the public. From iconic landmarks like the Tower Bridge and the Shard to lesser-known gems like the Leighton House Museum, there's something to captivate everyone's imagination.
Historical Landmarks: Step back in time as you explore London's historic landmarks. Wander through centuries-old palaces, churches, and museums. Discover the secrets of the city's past at places like the magnificent Westminster Abbey, a UNESCO World Heritage Site.
Modern Marvels: London isn't just about its storied history; it's a thriving hub of contemporary architecture. The festival grants you access to state-of-the-art buildings, like the Walkie-Talkie building at 20 Fenchurch Street, offering breathtaking views of the city from its sky garden.
Hidden Treasures: Beyond the well-known attractions, the London Open House Festival also shines a spotlight on hidden architectural gems. These may include private residences, schools, and community centers with unique designs and stories to tell.
How to Get Tickets?
To embark on this architectural adventure, you'll need to purchase tickets. You can easily secure your tickets by visiting the official London Open House Festival 2023 website here. The website provides detailed information on ticket options, pricing, and event schedules.
Plan Your Festival Experience
Before you dive into the festival, it's a good idea to plan your visits in advance. The official website also offers a helpful interactive map that allows you to explore the various locations and create your own itinerary. This way, you can make the most of your time and ensure you don't miss out on any must-see spots.
The London Open House Festival 2023 is an extraordinary opportunity for international students and all visitors to delve into the heart of London's architectural splendor. Whether you're passionate about history, fascinated by modern design, or eager to uncover hidden treasures, this festival has something to offer everyone. So, don't miss out on this chance to explore the city's vibrant architectural tapestry. Get your tickets now and embark on an unforgettable journey through the architectural wonders of London!