The Renters (Reform) Bill: What International Students Needs to Know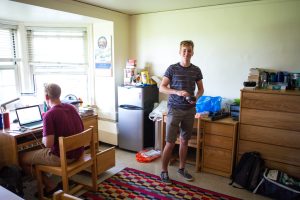 A once-in-a-generation reform of housing laws in England promises to bring safer, fairer, and higher-quality homes to over eleven million tenants, including international students. The Renters (Reform) Bill, recently introduced to Parliament, fulfills the government's 2019 manifesto pledge to abolish Section 21 'no fault' evictions, empowering renters to challenge substandard landlords without the fear of losing their homes.
This landmark bill not only protects tenants but also benefits over two million landlords, making it easier for them to reclaim properties when necessary, such as selling their property, accommodating close family members, or dealing with non-payment of rent. The proposed legislation also reduces notice periods for tenants who have been irresponsible, breached their tenancy agreement, or caused damage to the property.
These reforms build upon the government's decade-long progress in enhancing tenant protections. Measures introduced in previous years include granting councils stronger powers to address criminal landlords through Banning Orders, implemented via the Housing and Planning Act 2016, as well as shielding tenants from exorbitant deposits and fees under the Tenant Fees Act 2019.
The proposed changes in the Renters (Reform) Bill extend beyond eviction regulations. They also aim to strengthen the power of landlords to remove tenants engaged in anti-social behavior or rent arrears promptly. Additionally, the bill introduces a new Ombudsman to facilitate faster and more cost-effective dispute resolutions. Moreover, a digital Property Portal will be established, providing landlords with clearer guidance on their responsibilities and assisting tenants in making informed decisions when entering into tenancy agreements.
While these reforms are vital for the overall rental sector, they also have specific implications for international students. Currently, student renting operates differently from the general private rented sector. Students often sign fixed-term tenancy agreements (FTTAs) with their housemates for a duration of 12 months, which aligns with the academic year. This system offers stability but restricts flexibility, as students are unable to terminate the tenancy before its completion, even in cases of friendship breakdown, withdrawal from studies, or finding alternative housing.
The Renters (Reform) Bill seeks to address this issue by proposing to ban FTTAs, aligning student letting with the rest of the private rented sector. Instead, all student houses would be placed under periodic (open-ended) contracts, providing greater flexibility. Students would have the freedom to remain in their accommodation indefinitely, as long as they give a two-month notice when they wish to leave. However, removing FTTAs for students also introduces potential challenges, such as uncertainty in securing accommodation for the following academic year and increased pressure on students to accept subpar housing due to limited availability.
Moreover, periodic tenancies for students are likely to be joint tenancies, meaning that if one tenant gives notice to quit, the tenancy ends for all occupants at the end of the notice period. This arrangement could lead to situations where some students have nowhere to live during the summer break, particularly impacting care-experienced, estranged, and international students who cannot return home. Furthermore, landlords may be deterred from renting to students partway through their final year, resulting in a shrinking student housing market and heightened competition for limited housing options.
While the Renters (Reform) Bill introduces important protections and improvements to the rental sector, it is crucial to consider the potential implications and challenges it poses for international students. Balancing the need for flexibility and stability in student renting will be essential to ensure a positive impact on the housing landscape for these valuable members of the academic community.