Exploring Brighton: A Must-Experience City for Global Minds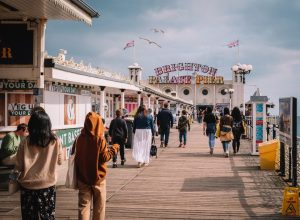 As the sun rises on the southern coast of England, a city steeped in history and vibrancy beckons the curious souls of international students in the UK. Welcome to Brighton, a gem on the shores of the English Channel, where rich culture, scenic beauty, and a dynamic student community await you. In this article, we invite you to uncover the myriad reasons why Brighton is a must-visit destination for young minds seeking to broaden their horizons.
A Fusion of History and Modernity
Brighton's story began centuries ago, gaining popularity as a fashionable seaside retreat for the royals in the 18th century. This legacy is evident in the iconic Brighton Palace Pier, a picturesque Victorian pier that offers mesmerizing views of the coastline. Strolling along this structure, you'll feel the echoes of the past blending harmoniously with the contemporary energy of the city. Additionally, the Royal Pavilion, a stunning Indo-Saracenic palace, is a testament to Brighton's unique architectural charm and history.
The Lively Cultural Scene
Diversity is the heartbeat of Brighton, and this is vividly reflected in its thriving cultural scene. From a myriad of art galleries and theatres to independent cinemas and live music venues, there's something for every creative soul. The Brighton Dome, a historic venue that hosts a plethora of cultural events, and the Brighton Festival, an annual celebration of arts and culture, are highlights not to be missed.
Education and Academic Opportunities
Beyond its tourist attractions, Brighton also boasts an excellent educational landscape, making it an ideal destination for ambitious international students. The city is home to several esteemed universities and educational institutions, providing a supportive and intellectually stimulating environment for learners from around the world. Studying in Brighton offers the perfect blend of academic growth and unforgettable life experiences.
A Vibrant Student Community
Brighton's welcoming atmosphere is further accentuated by its lively student community. With a sizable population of international students, you'll find a diverse array of cultures and perspectives here. Engaging with fellow students will not only foster lifelong friendships but also offer unique insights into the world's various cultures.
Places to Explore in Brighton
North Laine

: This vibrant and bohemian neighborhood is a treasure trove of independent shops, quirky boutiques, vintage stores, and quaint cafes. Lose yourself in its eclectic charm, and you'll undoubtedly stumble upon hidden gems.

Brighton Marina

: Take a leisurely stroll around the bustling marina, admire the yachts, and indulge in a delightful seafood feast at one of the waterfront restaurants.
Devil's Dyke: For nature enthusiasts, a short trip to Devil's Dyke, a stunning valley on the South Downs, offers breathtaking panoramic views of the surrounding landscape.

Brighton Beach

: Of course, a visit to Brighton wouldn't be complete without spending time on its pebble beach. Breathe in the salty air, take a dip in the sea, or simply relax and soak up the sun.

Preston Park

: This vast green expanse is perfect for picnics, sports activities, or simply unwinding amidst nature.

Brighton's Food Scene

: Don't miss the chance to savor the delectable culinary offerings scattered throughout the city. From traditional fish and chips to international delicacies, Brighton's food scene caters to every palate.
Brighton stands as a city that effortlessly embraces its history while embracing a cosmopolitan and open-minded spirit. For international students in the UK, it presents an unparalleled opportunity to immerse themselves in an enriching cultural experience, pursue academic excellence, and forge friendships that transcend borders. Whether you seek artistic inspiration, academic growth, or simply a place to call home away from home, Brighton beckons with open arms. So, pack your bags, embrace the adventure, and let Brighton paint an unforgettable chapter in your life's journey.